The Finance Design Co.
Specialised Finance and Mortgage Broker based in Brisbane, serving clients Australia wide.
Industry
Finance and Mortgage Brokering
 What we did
Brand Foundations

Copywriting

Logo Design

Brand Corporate Identity

Stationery Design

Presentation Folder

Social Media Templates
PowerPoint Presentation Design
Website Design and Development
Key Brand Results
Refined brand positioning
Clear Brand Voice
Unique Brand Identity unlike others in this space
Uncompromised Brand Presence that evokes quality and professionalism

Refined and distinct appearance, enhancing trust

Easy-to-access and Manage Brand Library
Custom Website Presence
User-friendly Website
Easy-to-update Website

The Finance Design co. offers highly bespoke finance & mortgage brokering services – focuses on professional home buyers looking to purchase or construct a new home, refinance an existing loan or build a property portfolio.
The Finance Design co. required a brand, visual brand identity and website that portrayed the business as masterful, connected and experienced. It needed to be both professional and high-end while still being attainable and approachable.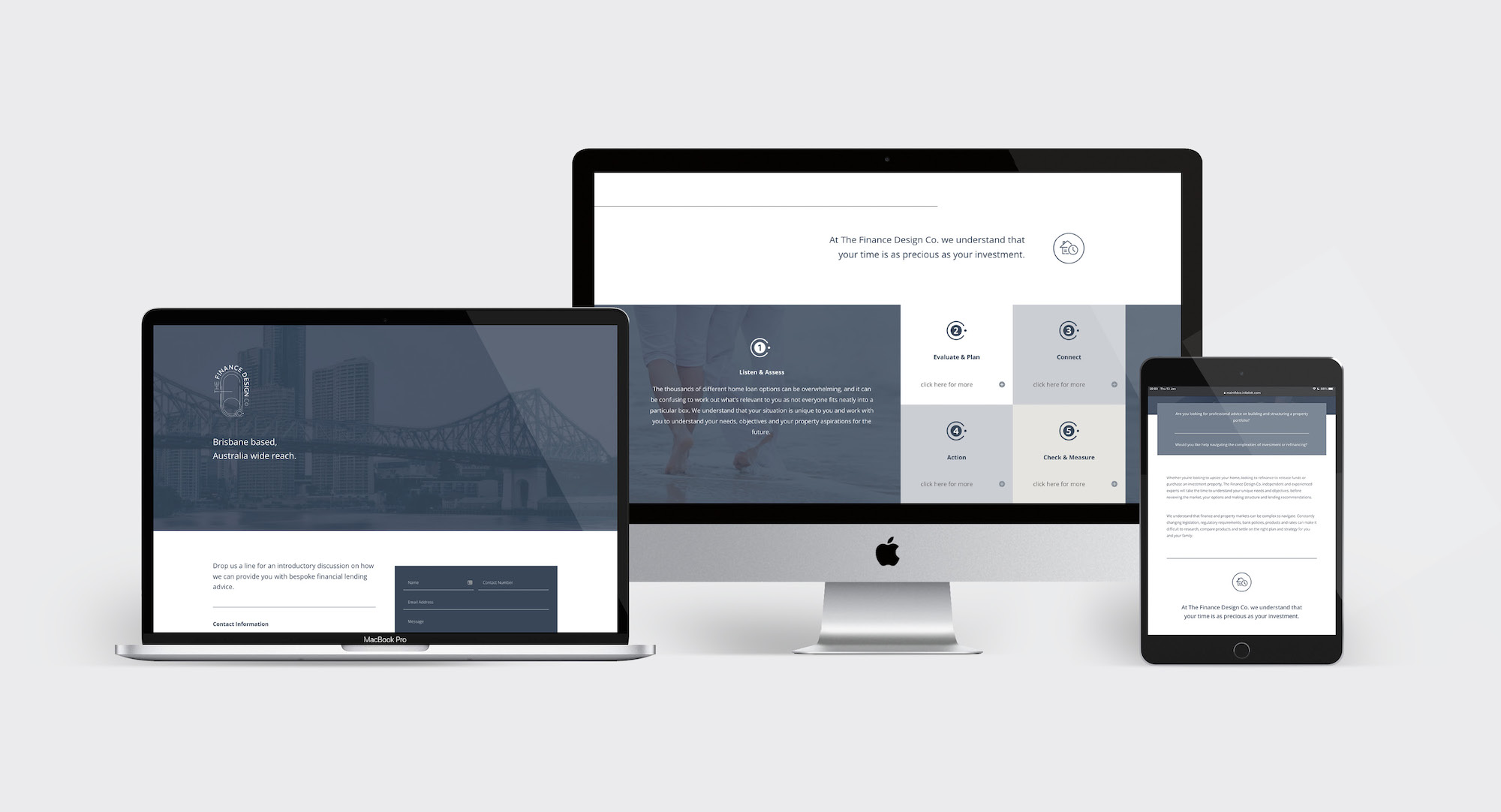 Our objective was to clearly define and understand the brand, working closely with Julia, the founder and CEO, through the client discovery and to understand the Finance Design Co's goals, brand, vision and to identify the opportunities within their market. This process included foundational research, competitor analysis, customer research and brand differentiation.  Our goal was to develop a unique and meaningful visual identity that would truly represent the business.
The Finance Design Co. required a strong visual brand identity, unlike typical designs commonly found with finance & mortgage brokers and advisors. We developed a look and feel that is clean and simple while maintaining a high-end profile, without feeling cold and distant.
A key factor about The Finance Design Co. business is that they systematically pull together specific resources to offer the best outcomes to their clients. This deeper insight of the business operations allowed us to uncover the unique concept of "bringing together" to create a brand icon by joining the letters of the name.
t + f + d + co.
The result is that this icon is 100% original and unique, elevating the brand presence and making the logo and icon instantly recognisable and memorable.
To ensure Julia was equipped with all the resources that she needs to conduct her business, and look professional, we developed additional supportive collateral elements.  These included a full set of stationery, letterhead, grid paper, presentation folder and business cards.
We also design and created a webite that encompased the new brand identity and carried the brand essenense in the tone of voice and brand positioning.
With The Finance Design Co's visual identity now complete, we developed a comprehensive set of brand guidelines, including logo usage, iconography, colours, typefaces and photography styles to help maintain and guide any future brand elements are consistently developed to the highest standards.
Are you are ready for your brand journey to grow your business?
We would love to connect over coffee or via zoom, to get to know each other and see how we can work together.