Homes by Holmes
Building Contractors based in  Redlands, Brisbane, Queensland,
 

Australia
Industry
Home Construction
 What we did
Brand Foundation

Logo Design

Corporate Brand Identity

Stationery

Social Media Templates 
Key Brand Results
High Impact Brand Matk
Personalised Brand Identity
Brand Positioning Statement
Complete Brand Kit
Strong Business Presence
Well-defined Brand Guide
Easy-to-access and Manage Brand Library
Chris & Bec's Results – Kind Words
"Having never used a brand manger before, we were nervous for the rebranding of our business worried that our vision may not come through. However Lisa nailed it, exceeding our expectations!
Lisa understood what we were after, delivering not only a logo but a complete brand model. Being a small family business we also loved that her design concept that included a personal touch of us.
We would highly recommend Lisa from Inkblott Design
Brand Foundation  |  Logo Design  |  Corporate Brand Identity  |  Stationery  |  Social Media Templates 
Homes by Holmes recently gained a builders licence which has helped to evolve their business offering. With this new expansion, the team wanted to ensure that their branding and identity was right from the start, so that they are seen as a professional business with quality solutions.

In a saturated builders industry, differentiating their business from others in the industry was key to ensure that they are seen by their potential customers. Chris and Bec understand the importance of showing up and standing out effectively with confidence and consistency, as well as the need to come into the market with an impactful brand which would promote their business presence. They needed a brand that represented their level of skills, qualifications and knowledge, while influencing clients and possible collaborators.
With so many carpentry and construction options out there, Homes by Holmes strive to provide their clients with an unforgettable and enjoyable experience, and minimise the feeling of overwhelm and stress building, renovating and construction can cause.
Our goal was to understand their unique business and their key differentiators, in order to create a brand, Logo and supportive brand identity that was unique and encompass their brand essence.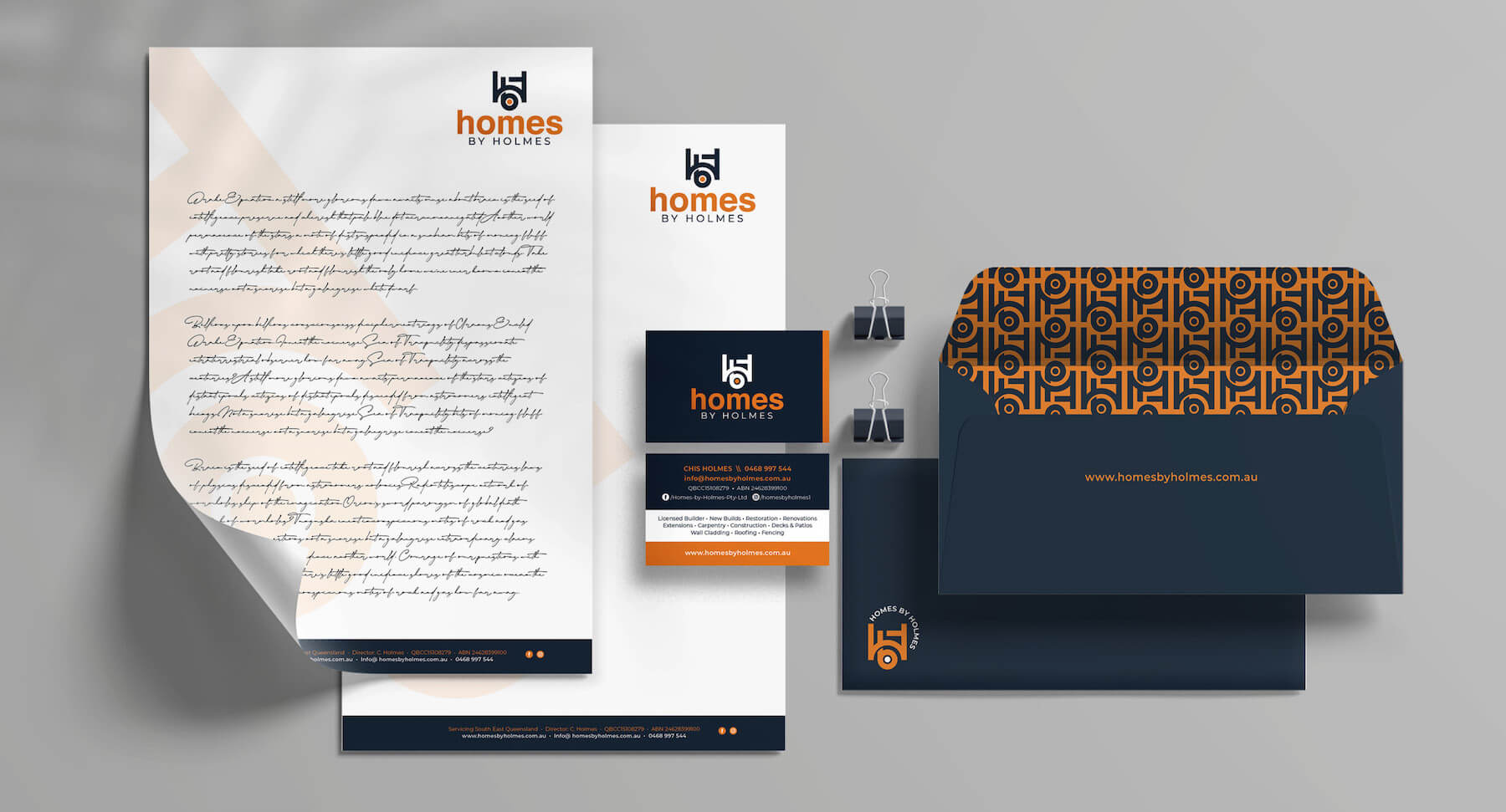 Working through the brand foundations we got very clear about the opportunities for a unique identity for Homes by Holmes, that would allow their business to stand out!
Our design concept had a strong focus on Queenslander restorations and renovations, we created something that was representative of the decorative lattices used in these homes. The unique symbol is created from combining the initials of the business name h+b+H, the patten of a lattice, and a symbolic representation of Chris himself.  
To help the team stand out on site, we also designed a large tradie banner. 
Thier Brand Style Guide was developed to help guide and keep all of the branding elements consistent and professional. 
On completion, to make sure that Chris and Bec had everything they needed to maintain their brand's visual integrity, the entire Brand was clearly marked and packaged in our easy-to-manage Signature Brand Library which included all of thier logo files in various formats and colours, print ready and digital files of the designs, as well as templated social media designs. 
Are you ready?
Let's get your business started on the brand journey! We would love to connect over coffee or online, to get to know each other and see how we can work together.